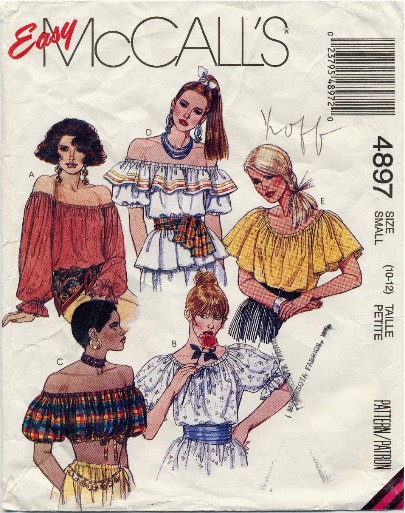 I enjoyed presenting a seminar on using a template for faster sewing at the 51st National Square Dance Convention in St. Paul in June 2002. Here are some notes and graphics from that session:
For years I have been using a peasant blouse pattern and a skirt pattern to make various square dance dresses. On this this and several subordinate pages I describe how I use McCall's 4897 and a four-gore-skirt pattern to make the dresses pictured. Though McCall's 4897 is out of print, Simplicity 5962 and McCall's 3650 are similar and should work fine.
We last updated this page on December 26, 2006. We will post pictures of the actual dresses in the coming weeks.
Using this pattern for the bodice is great for faster sewing because:

There is no precise fitting.

No zipper or other fastenings are needed.

No interfacing is needed.
But you will need a belt!
PATTERN SELECTION and ALTERATION
The Peasant Blouse:
Cut or fold pattern 1" below waistline marking
The Skirt:
Use your favorite four-gore skirt pattern.
Modify the pattern so that the waistline is the same measurement as the blouse.
Increase the waistline seam allowance to 1".
FABRIC
You will need 5 to 5 ½ yards of 45" width fabric
LAYOUT and CUTTING
If fabric is not a one-way design, and you have enough, fold to cut all 4 skirt gores at once

If fabric is a one-way design, or the design must be matched or carefully laid out, each gore must be cut separately.
Click here for layout of quilt dress.
Click here for graphic of alteration to peasant blouse pattern for sleeveless dress.
Strategies if you do not have enough fabric:
Construction
With Serger:
(Note: most patterns suggest a raglan sleeve be installed by sewing the front and back of the sleeve to the bodice pieces first and then sewing the underarm as one continuous seam, but I prefer the look and fit of this method, similar to a set-in sleeve.)
With Straight Stitch Machine:
Finish skirt edge. Apply trims.

Finish sleeve edge. Apply trims.

Apply bias tape for neckline and sleeve casings.

Sew bodice and skirt together, leaving opening for elastic.

Switch back to SERGER to overlock edge of waistline seam.

Insert all elastic: waist, neckline, sleeves. (Optional: apply strap holders.)
THE FUN PART– USING TRIMS
Trims include:
Trims don't have to match, just coordinate.
Consider scale

Mix different types, widths, and colors

Bias tape can be decorative as well as functional

A serged rolled hem with wooly nylon thread not only looks decorative, it also saves fabric

Experiment with decorative stitches and threads
FINAL STEP
C WEAR YOUR NEW DRESS AND REAP THE COMPLIMENTS!